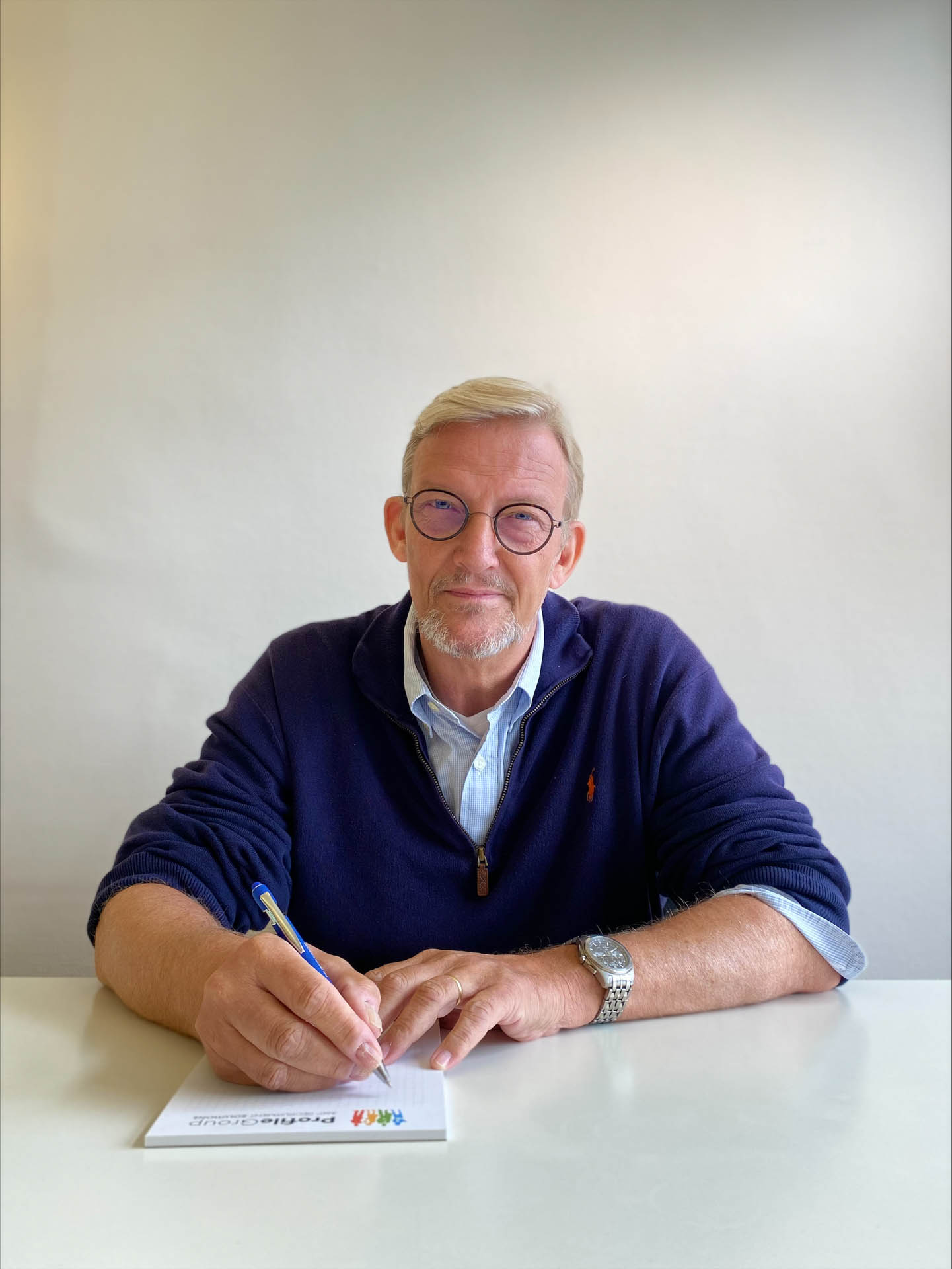 Hans
Verheij
Executive Search Partner & Assessment Manager
Who am I?
I was born in the Netherlands but have lived in Brussels since 1986. After so many years, I almost feel Belgian. Life in Belgium is great! My wife and 2 sons share this opinion!
My experience in recruitment
Over the years, I have accumulated a wealth of experience. I recruit for all types of companies: small, medium, and large, both Belgian and European. I also recruit a wide range of hierarchical profiles, from experts, managers executives to senior managers. I also work in different sectors: logistics, pharmaceuticals, chemicals and industry and most departments: finance & accounting, marketing, sales, logistics, etc.
Since 1995 I have been closely involved with the development of the assessment department for Profile Group. I have since developed an expertise with the development and use of interactive exercises and real-life cases to analyze skills and competences and properly evaluate the potential that cannot be easily detected in an online test or interview. My keen interest in assessments is linked to the desire and need to always have a respectful approach towards people: during an assessment, I always focus on the positive aspects and try to create an environment where candidates can give their best. The feedback I receive from candidates shows that they find our assessment approach challenging but educational. Also our clients really appreciate the flexibility, speed, and completeness of our candidate reporting.
Some key profiles I recruited
Director of Policy & Partnerships
Senior Investment Officer
Financial Planning & Analysis Manager
Regulatory Affairs Senior Strategic Forecasting Analyst
Market Development Manager
Some testimonials from candidates
Katrien Lueke
Policy Analyst at EDFI
I have had the great pleasure of being accompanied by Hans throughout a recruitment process. Overall, the selection procedure was very transparent and well organised. I appreciated having Hans as a "neutral broker" between me, as a candidate, and the recruiting organisation. Thanks to our open conversations, I could sharpen my understanding of the position and how it fits to my profile. I especially appreciated the continued availability and support of Hans in case of questions or concerns. Even if I had not been chosen for the position, I would have been very grateful for having gone through the different recruitment stages with Hans. Due to the comprehensiveness of the assessment, I learned more about myself and about how to approach selection processes. My sincere thanks for everything!
Chethinie Gunaratne
Office Manager at EDFI
In Belgium, a country where the majority of people think it is not easy to find an English speaking job, I forwarded my very first CV to Profile group. I was amazed at how efficient and responsive they were. Working with Hans as my consultant was a joy. He coached me and guided me through the interview process and I was able to get the very Job I wanted at my very first try. I will recommend Profile group and working with Hans to anyone without a doubt!
Some testimonials from clients
Christopher Boden
Sales & Marketing Manager Customer Analytics at FedEx Express
Hans has been an excellent business partner who I have worked with over the last 5 years for the recruitment of various analyst roles. He has been very adaptive and is able to fine tune his selectoin criteria and processes to meet the characteristics that I have been looking for and subsequently provides me with good quality candidates.
Hans Lepelaars
International Sales Director at ASC INSTRUMENT
Hans has a good grip on what is required to make a successful fit between a company and a candidate, not only from a skills/competencies point of view, but also from the fit-in-the-team and company culture side. Good listener, good and open communication and long term success oriented.
Luuk Zonneveld
Chair of the Board of Directors at EDFI
I highly appreciate the personal commitment of Hans. He pro-actively contacted me regularly to ensure the efficient and successful recruitment procedure, he kept in contact with the long- and short-listed candidates and was helpful in discussing candidates' suitability for the function in question.
The job profile for the function was very specific, it was not like recruiting for a generalized function like teacher or bookkeeper, making it challenging to recruit and assess applicants.
Hans submitted a diverse initial long list to us. Because of our feedback Hans gained better insight in the exact candidate profile we were looking for, which helped him in his recruiting and initial assessment.
Relaxed and informal in the best sense of these words. I could call him whenever I wanted, and he was almost always available. The informal character of the cooperation made it easy to quickly get to the point, talk frankly and progress well.
What I like about Profile Group
From the very first interview with Andrew Simmonds in 2002, I felt like I was coming home. Not only the homely and casual atmosphere of the interview room (with comfortable seats), the delicious coffee, but also the warm welcome from Andrew, made me feel like I could be myself. As a consultant, Andrew gave me lots of freedom in completing my job and meeting my targets. He was and still is open to new ideas and he encourages this. Profile Group has grown considerably since 2002 and has adapted to the market and its needs. The challenges we face as consultants have always fascinated me and still encourage me to give my best. In 2023, there will be 50 of us. Everyone knows each other. There is a lot of collaboration on the assignments and projects and a lot of laughter! I find that very important, because in our job you must be able to put things and events in perspective!